Start of Project - April 27, 2011
The Basic Timeline


I am not in a particular hurry to restore this car since I'm also working on my Mini Pickup. This project just sort of popped up when the owner learned that I was no longer interested.

To understand the process I will first note that I bought this car and am restoring it in Tarija, Bolivia. That is a city of about 130,000 people, located 120 miles north of the border with Argentina in a valley at about 6000 feet above sea level.

I only spend 40% or less of my time in Tarija and the rest in Santa Cruz where much of my work keeps me. Santa Cruz is a city of about 1,500,000 people about 450 miles from the border with Brazil in a very flat tropical area at about 1200 feet above sea level.

Santa Cruz is also about 450 miles northeast of Tarija by a two lane mountain road. (move the map with your mouse if you don't see Santa Cruz in the upper portion)

View Larger Map

One of the first considerations is that there are very few parts stores in either city, and those that exist sell mainly parts for Japanese, Korean, Brazilian, Argentinian, or Chilean manufactured cars. There are very few French cars in Bolivia, although a version of this car was assembled in Argentina and there are a lot of generic parts I will be able to obtain. I expect Argentina to be my major parts source.

From the data plates it is an R1090 series, and the reclining seat (only offered in 1962) makes it a 1962. The paperwork is not clear, I may never find an exact year of production.

Since there were very few of these shipped to the US, I do not expect to find parts there. I have also found a few differences between the ones built for the US market and those built for French market. Plus differences in the Argentine model.

I have not spent as much time in Tarija as I used to do, so progress is slow, but I've assembled the engine, power pack, wheels and suspension right now. Parts are polished and the body is finally painted, ready for reassembly

I try to time my work around trips to the U.S. and trips to Tarija.

When I'm in Tarija I divide my time between work and restoration of the cars. Since I purchased this one I've only been in Tarija:

2011: 38 days
2012: 80 days
2013: 75 days
2014: 72 days
2015: 69 days
2016: 47 days

The Local Logistics


Once the parts are in country there is more to it than just bolting them in place.

Since most of the parts I need will probably come from Argentina, they will either be shipped directly to Tarija or I will pick them up in Argentina and take them with me. I bought replacement seats from Buenos Aires, and they ended up in Oran instead of Aguas Blancas to cross over the border. They were no good, so the second set was sent to the border and a friend picked them up, carried them across the river in a small boat, and sent them to Tarija in a taxi.

The trip from Santa Cruz to Tarija follows this course up and down the mountains. (Tap to enlarge.)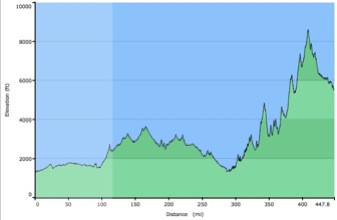 In the rainy season sometimes that road is washed out and I have to detour through northern Argentina. That road follows this path up and down the mountains.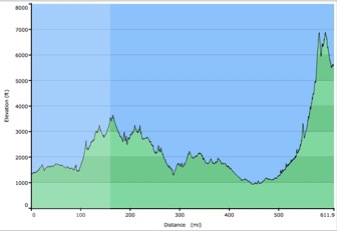 Within the area of Tarija, I am working in many different places on any given day. Contrary to the Corvair, I am doing almost all of the work on this car at home.
My home, located 14 miles south of the city: rebuilds, honing and other detailed work on small parts, as well as the polishing of most of the stainless steel. I have done most of the mechanical work at home, including the engine and transmission rebuild.
My main shop, located 3 miles east of the city - dedicated to oil changes. Washing, degreasing, sand blasting, storage.
A body shop 2 miles east of the city owned by Rene Calizaya: Sanding, welding and painting: All body work.
An upholstery shop on the east edge of the city for reupholstering of entire inside of the car.
I have also used three machine shops in the city of Tarija, one for the engine machining and one for making suspension parts.
I have bought a number of parts in Argentina and some from Brazil, the US, and Canada.