Start of Project - March 2, 2011
The Basic Timeline


This project is not expected to be quick, but I thought I'd be able to do it in less time than it took me for the Corvair. To understand the process I will first note that I bought this car and am restoring it in Tarija, Bolivia. That is a city of about 130,000 people, located 120 miles north of the border with Argentina in a valley at about 6000 feet above sea level.

I only spend 40% or less of my time in Tarija and the rest in Santa Cruz where much of my work keeps me. Santa Cruz is a city of about 1,500,000 people about 450 miles from the border with Brazil in a very flat tropical area at about 1200 feet above sea level.

Santa Cruz is also about 450 miles northeast of Tarija by a two lane mountain road. (move the map with your mouse if you don't see Santa Cruz in the upper portion)

View Larger Map

One of the first considerations is that there are very few parts stores in either city, and those that exist sell mainly parts for Japanese, Korean, Brazilian, Argentinian, or Chilean manufactured cars. There are very few British cars in Bolivia. I have been able to locate and photocopy a 450 page parts book for the Austin and Morris Mini-Saloons. During the restoration I was able to obtain electronic versions of several of the service manuals.

My first order of parts was for a 1275cc motor and front sub-chassis from Santiago Chile. That was to be loaded on a lowboy with an excavator for its trip here. That did not happen. After two years of waiting, I bought another from Japan that was in a parts shop in the free zone in Iquique, Chile.

My second order was from Mini Sport in the UK. They shipped DHL to Tulsa, Oklahoma. Then it went go on a container of oil that took about 80 days to get Tarija via Arica, Chile and Santa Cruz, Bolivia. The last leg of that trip from Santa Cruz to Tarija was in my Grand Cherokee.

Some things I have had shipped to my daughter in Virginia and brought with me after visiting. I have to consider the weight and size of what I try to bring on the plane. With only 50 lb. per suitcase it is hard to bring heavy things.

This means I can't wait to discover that I need a part, order it, receive it by FedEx and install it. Nor could I go down the street to my local auto parts store and buy it. Yes, FedEx is physically an option, but the last $75 item I had shipped by FedEx cost me $275 in shipping and paperwork.

So I will try to time my work around trips to the U.S. and trips to Tarija.

At several points towards the end I did end up shipping various parts by Fedex, DHL, and UPS from England.

As of this point I have ordered or obtained parts from:

Iquique, Chile
UK
Florida, USA
California, USA
Santa Cruz, Bolivia
The Local Logistics


Once the parts are in country there is more to it than just bolting them in place.

There are some things I am able to work on in Santa Cruz and then take back to Tarija. Also, all imported parts with the exception of the sub-chassis and engine will first come to Santa Cruz. Then I take them or ship them to Tarija.

The trip from Santa Cruz to Tarija follows this course up and down the mountains. (Tap to enlarge.)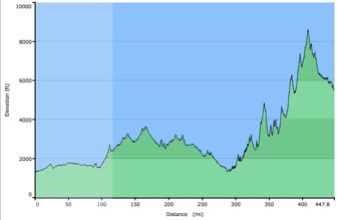 In the rainy season sometimes that road is washed out and I have to detour through northern Argentina. That road follows this path up and down the mountains.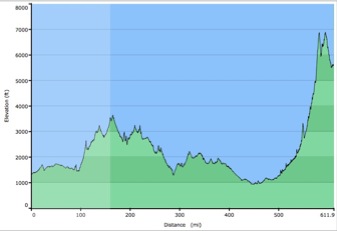 Within the area of Tarija, I am working in many different places on any given day.
My home, located 14 miles south of the city: rebuilds, honing and other detailed work on small parts, as well as the fabrication and polishing of stainless steel parts. This is also where I rebuilt the 1275 cc SPI engine and transmission that came from Japan.
My main shop, located 3 miles east of the city - dedicated to oil changes, car, bus and truck washes, but with ample space, water pressure, compressor, etc.: Washing, degreasing, sand blasting, etc.
A body shop 2 miles east of the city owned by Rene Calizaya: Sanding, welding and painting: All body work. I also did a lot of the work on sub-assemblies in his shop while he worked on the body.
An upholstery shop in the city for reupholstering of the seats. I did the headliner and carpeting at my house.