This site documents the restoration process of the 1975 Morris Mini Pickup I purchased on March 2, 2011.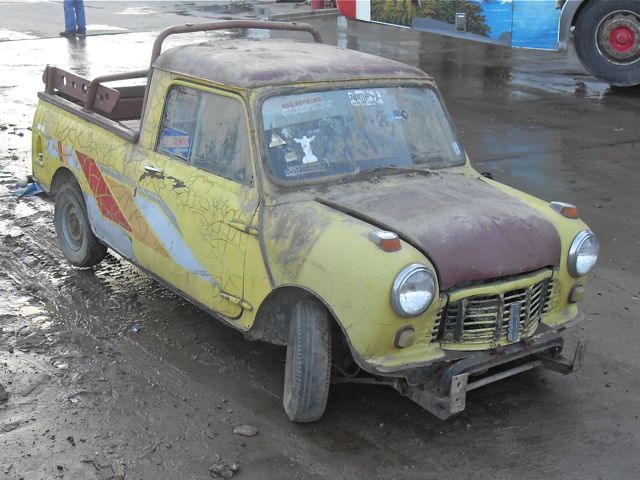 This pickup was originally imported to Bolivia in 1975. At this point I believe the first owner was Gringo Limón, an eccentric restaurant owner. He passed away a few of years ago. According to the carpenter I bought it from, he was the seller in 2002, although I found the documents from the 1990's belonging to the carpenter when I pulled out the seats.

Around 2005 this owner replaced the engine with one from a Suzuki, stretching the front end and using parts of a Volvo truck bumper for his new front bumper. He says the original engine ran, but the timing chain made scraping noises and he couldn't find a replacement, so replaced the engine instead. You can see from the pictures that it needed a lot more than a timing chain.

He also built wooden seats in the back for extra passengers. These trapped water and caused a lot of rust.

This site will be a work in progress. Since I only spend 30 to 50% of the year here in Tarija, and will need to import parts from the US, UK, or Japan, I expected the project to take a year or so, but since I had trouble with the guy who was selling me a new engine in Santiago, Chile, and after two years of waiting, I've purchased another and the project should move forward quickly

When finished, it will continue to be registered as a 1975 Morris Mini Pickup, but the front half will actually be from a 1994 Rover Mini Saloon that was originally driven in Japan.

If you have come here directly, you might want to check out the restoration of my 1960 Corvair, or some of my other projects over the years.

You might also want to check out my business site: Widman International SRL.