This site documents the restoration process of the 1975 Morris Mini Pickup I purchased on March 2, 2011.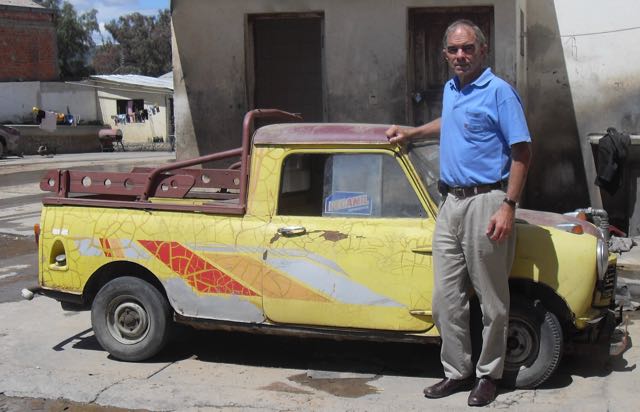 This pickup was originally imported into Bolivia in 1975. At this point I believe the first owner was Gringo Limón, an eccentric restaurant owner. Many people I've talked to remember him driving it. He passed away a few of years ago. According to the carpenter I bought it from, he was the seller in 2002, although I found the documents from the 1990's belonging to the carpenter when I pulled out the seats.

Around 2005 this owner replaced the engine with one from a Suzuki, cutting the front chassis, stretching the front end and using parts of a Volvo truck bumper for his new front bumper. Most of his suspension parts were pieces of re-bars from construction. He says the original engine ran, but the timing chain made scraping noises and he couldn't find a replacement, so replaced the engine instead. You can see from the pictures that it needed a lot more than a timing chain.

He also built wooden seats in the back for extra passengers. These trapped water and caused a lot of rust.

This site has been a work in progress. Since I only spend 20 to 30% of the year in Tarija, and frequently need to import parts from the US, UK, or Japan, I expected the project to take a year or so, but since I had trouble with the guy who was selling me a new engine in Santiago, Chile, and after two years of waiting, I purchased another, with a complete front clip, and the project is moving forward again. This front clip was sold as a 1994, but the VIN is from about 1990-1991 with parts manufactured in late 1990, so it is a Mk V. The hood is from a body with a 998 engine (complete with maintenance sticker in Japanese). The engine was manufactured in late 1992 and is a 1275cc engine with SPI, 9.4:1 compression and an automatic transmission. I have rebuilt it to stock with standard dimensions, upgrading the timing chain to a double.

Now that it is finished, it continues to be registered as a 1975 Morris Mini Pickup, but the front half will actually be from a late 90/91 Rover Mini Saloon that was originally driven in Japan (build #490191). The actual modifications to the body to match the 1980's doors with their roll-up windows is not as easy as it seems, since the curves and dimensions are different, as are the frames and recesses. In Month 31 you can see how we stretched the cabin to meet the doors.

I took it for its first drive on November 16th, 2015, a little under 5 years from starting the project.

This was always intended to be a bright red pickup when finished. My final color is code COF, sometimes referred to as BLVC 818. It was one of the original optional colors between 69 and 77 as "Signal Red" and was the actual color of my new front clip, called "Flame Red" from 1988 through 1999. I've used a three coat Polyester paint system, with a base red, a full red top coat, and a clear coat. Final color pictures start on month 44, and month 57 shows it polished with Meguiar's Ultimate.

At the end of the Progress section I have included a page that shows Before and After from different perspectives.

The full story of the build is HERE.

Here is the current picture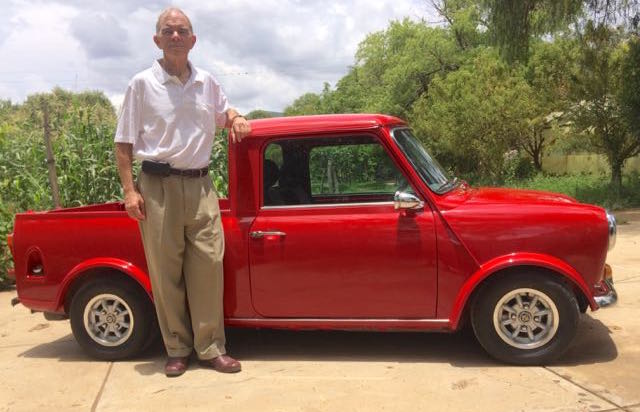 If you have come here directly, you might want to check out the restoration of my 1960 Corvair, or some of my other projects over the years.

You might also want to check out my business site: Widman International SRL.