Start of Project - January 20, 2007
The Basic Timeline


This project is not expected to be quick. To understand the process I will first note that I bought this car and am restoring it in Tarija, Bolivia. That is a city of about 130,000 people, located 120 miles north of the border with Argentina in a valley at about 6000 feet above sea level. At last count there was a car, truck, or bus for every 8 people.

I have only been able to spend about 30% of my time in Tarija and another 50% or so in the city of Santa Cruz, Bolivia since buying the car. In 2007 was 109 days in Tarija after buying the car and in 2008 only 111 days. In 2009 I only spent 120 days. Santa Cruz is a city of about 1,200,000 people about 450 miles from the border with Brazil in a very flat tropical area at about 1200 feet above sea level.

Santa Cruz is also about 450 miles southwest by mountain road from Tarija. (move the map with your mouse if you don't see Santa Cruz in the upper portion)

View Larger Map

One of the first considerations is that there are very few parts stores in either city, and those that exist sell mainly parts for Japanese, Korean, Brazilian, Argentinian, or Chilean manufactured cars. There are very few American cars in Bolivia.

So from the start I decided to make my list of issues as they came up and order from wherever I could, utilizing trips to the U.S. to bring in most of them, with the option of putting large items on my ocean containers of oil that ship out of Tulsa, Oklahoma every few weeks. It takes about 60 to 80 days to get things from Tulsa to Tarija.

I also have to consider the weight and size of what I try to bring on the plane. The recent reduction of luggage allowance to 50 lb. makes it hard to bring heavy things.

This meant I could not discover that I needed a part, order it, receive it by FedEx and install it. Nor could I go down the street to my local auto parts store and buy it. Yes, FedEx is physically an option, but the last $75 item I had shipped by FedEx cost me $275 in shipping and paperwork.

So I have tried to time my work around trips to the U.S. and trips to Tarija. I have obtained parts from various Corvair parts suppliers, ebay, and members of the very helpful Corvair community.


As of this point I have obtained parts from:


◆

Juneau, Alaska - USA


◆

McMinnville, Oregon - USA


◆

Shelburne Falls, Massachusetts - USA


◆

Tulsa, Oklahoma - USA


◆

Manassass, Virginia - USA


◆

Warenton, Virginia - USA


◆

Virginia Beach, Virginia - USA


◆

McDowell, Virginia - USA


◆

Corona, California - USA


◆

North Concord, Vermont - USA


◆

Golden, Colorado - USA


◆

Gettysburg, Pennsylvania - USA


◆

Quincy, Massachusetts - USA


◆

Edison, New Jersey - USA


◆

Hesperia, California - USA


◆

Wichita, Kansas - USA
Ontario, Canada


◆

Palm Coast, Florida - USA


◆

Santa Cruz - Bolivia


◆

Tarija - Bolivia


◆

Buenos Aires - Argentina
Several others

An example of how the timeline from the states works is my new flywheel and pressure plate.
On April 22 I got the engine running and soon the starter nose broke and I heard vibrations at higher rpms. By the 28th, with the help of the members of the
Corvair Center
forum I located a new flywheel and pressure plate.
On May 7th the parts arrived in Tulsa, Ok, so if all goes well, on the 14th they will head for Houston, leaving by ship on the 21st and pass through: - Miami on the 23rd of May - Panama on the 28th of May - Ecuador on June 1st - Peru on the 3rd of June - Chile on the 7th of June
Then it gets off-loaded and put on a truck for Bolivia and should get to Santa Cruz on the 16th to pass customs, get unloaded from the container and put on the bus to Tarija for me to install on the 19th or so.
(It was actually June 29th when I could pull the power train and install them.)
The Local Logistics


The actual disassembly, restoration and assembly has its logistical quirks.
With the exception of the used front suspension (and replacement flywheel & pressure plate) that I had shipped with drums of oil for my business from Tulsa on one of my 40 ft ocean containers, all parts from the U.S. have come in my suitcase or that of a visiting friend or child.

Once the parts are in country there is more to it than just bolting the parts in place.

I cleaned, de-flashed and painted the rebored cylinder barrels in Santa Cruz after bringing them from the U.S., then took them in my 4Runner with the other parts to Tarija.

The trip from Santa Cruz to Tarija follows this course up and down the mountains. (Tap to enlarge.)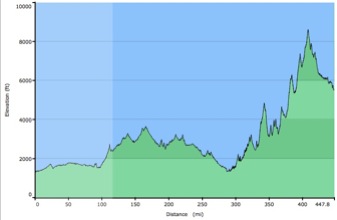 In the rainy season sometimes that road is washed out and I have to detour through northern Argentina. That road follows this path up and down the mountains.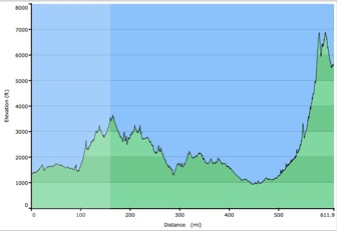 Within the area of Tarija, I am working in many different places on any given day.
My home, located 14 miles south of the city: rebuilds, honing and other detailed work on small parts, as well as the polishing of most of the stainless steel and aluminum parts.
My main shop, located 3 miles east of the city - dedicated to oil changes, car, bus and truck washes, but with ample space, water pressure, compressor, etc.: Washing, degreasing, sand blasting, straightening, polishing, cleaning of heads, some painting, etc.
My secondary shop, located in the center of the city: Tire mounting, balancing and alignment. (now closed with everything at the main office).
A mechanical shop south of the airport, owned by Jose Ortiz: Basic disassembly and assembly including hydraulic presses, heavy tools, valve seating, de-flashing of heads, some painting, etc.
A body shop 2 miles east of the city owned by Rene Calizaya: Sanding, welding and painting: All body work.
An electrical shop on the northwest end of the city for testing and restoration of anything electrical.
A machine shop on the north end of the city owned by Juan Pinaya: Turning of crankshaft, installing piston pins and valve guides.
An upholstery shop on the east edge of the city for reupholstering of entire inside of the car.
Various machine shops around the city for removal of bearings and U-joints, resurfacing of the clutch, turning of brake drums, resurfacing of the pressure plate and flywheel, etc.
The muffler shop on the north edge of the city for fabricating the muffler.
A welding shop on the southwest side of the city for reconstructing the gas tank.
An electrical shop owned by Felix Miranda on the eastern edge of town (3 blocks from my office). Felix was the second owner of the car.